Quiz Bowl Takes Bronze at MUDECAS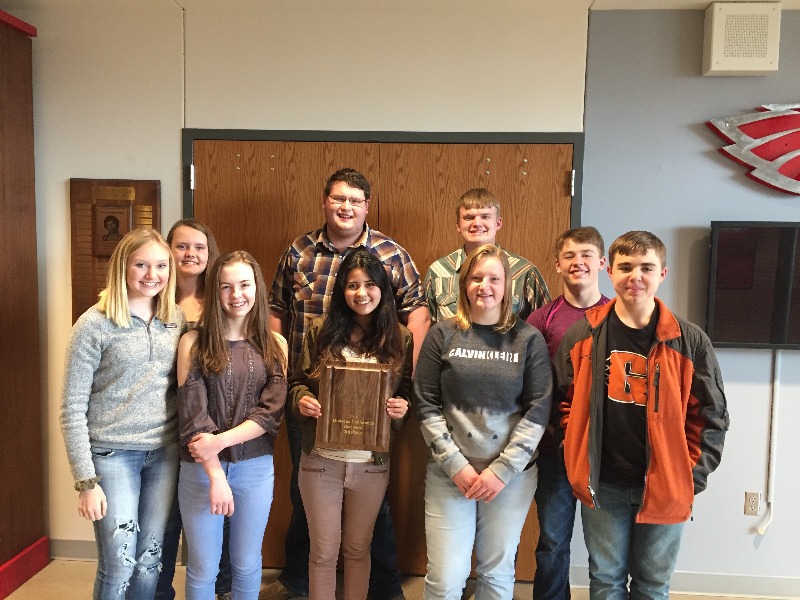 Thirty-two teams started the day, but only 8 made it to the big show. Diller-Odell's high school quiz bowl team emerged from pool play with a 5-2 record to take the #6 seed in the MUDECAS tournament. The team, which consisted of seniors Adam Schultis, Spencer Schmidt, Faith Novotny and junior Stephanie Rosales, started off with a significant win. They defeated #3 seed Southern, a team they had faced several times this season. In the second round, they met up with HTRS A and lost. The Griffins then found themselves in the consolation bracket. With determination, they avenged losses from earlier in the season by eliminating Tri County and Johnson-Brock. Their final match pitted D-O against HTRS B. In a tie breaker, the Griffins fell short when they gave the incorrect answer "400." The Titans buzzed in with the correct answer "40" and went on to face HTRS A in the championship.
Diller-Odell took two teams to the MUDECAS tournament. In pool play, the B team tasted victory when they beat Parkview Christian. Their record for the day was 1-6, but each team member felt success by buzzing in correctly several times throughout pool play. They were a strong team that fell short in the win column. Team members included Connor Klecan, Kelsay Schlichtman, Neleigh Weers, Melina Kostal and Bradley Blake.