2017-2018 Elementary Supply Lists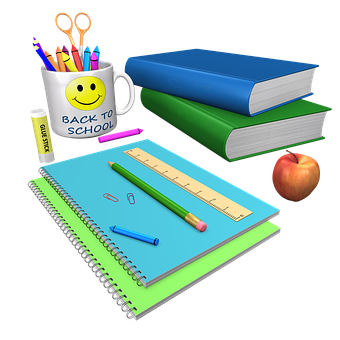 KINDERGARTEN
1 Pair of P.E. shoes
1 Book Bag (no rollers please)
1 Box of 8 or 10 Crayola large tip markers (traditional colors-red, green, blue, etc.)
1 Box of Colored pencils
2 Boxes of 24 Crayola Crayons (regular size not jumbo)
4 Large glue sticks (.77 oz)
6 Pencils – regular size
2 Large erasers
1 Pair children's scissors
Pencil box (regular size: about 5x8 inches)
Plastic container filled with crackers for cracker break (put child's name on it)
2 2-pocket folders
1 Large box of Kleenex
Mat, rug, or blanket to rest on
Kindergarten Wish List: Gallon, snack or sandwich size Ziploc Bags, paper plates, plastic spoons
FIRST GRADE
1 box of 12 #2 pencils
2 boxes of 24 Crayola crayons
1 box of 12 Crayola colored pencils (not erasable)
1 box of thin Crayola classic color markers
1 box of regular Crayola classic color markers
Fiskars scissors (for kids pointed tip #9430)
Spacemaker pencil box (regular size only)
Spacemaker zipper bag (to hold markers)
2 bottom pocket folders
1 subject wide ruled spiral notebook
3 large glue sticks (Elmer's jumbo size - .77 oz)
Pink pearl eraser
1 large box of Kleenex
1 large container of disinfecting wipes
Backpack or book bag (no wheels please)
Tennis shoes for P.E.
SECOND GRADE
1 notebook-wide ruled
#2 pencils
1 large eraser and 1 pkg pencil top erasers
1 large glue stick
1 box of 24 crayons
Scissors
1 box of 8 markers
4 dry erase markers
Pencil box or zipper pouch
1 large box of Kleenex
Earbuds
Backpack or book bag (no wheels please)
Tennis shoes for P.E.
THIRD GRADE
Book Bag (no wheels)
Tennis shoes for P.E.
4 - Two-pocket folders
Small spacemaker box
#2 lead pencils (no mechanical pencils)
1 pkg. 200-count wide ruled filler paper
1 Large eraser and 1 pkg. of pencil top erasers
Earbuds
Colored pencils or markers
1 large glue stick
2 Packages of Expo wipe off markers (NOT fine tip)
1 Large box of Kleenex
Crackers for cracker break in a sealed container
Optional: scissors, calculators
Wish List: Clorox wipes, Ziplocs (all size)
FOURTH GRADE
1 – 3-subject notebook
Glue Stick
Pencils
1 - Big eraser
1 – Two-pocket folder
1 - Pen
4 – Dry erase markers
Pencil Box
Crayons or Colored Pencils
Ruler
Scissors
Earbuds
2 Large boxes of Kleenex
1 container of disinfectant wipes
Tennis shoes for P.E.
Optional: Markers

FIFTH GRADE
3 wireless notebooks or 2 pkgs. of 200-count loose leaf paper
Small pencil box/case
#2 pencils (regular Yellow and/or mechanical)
Erasers
Earbuds
Colored pencils
Dry erase markers
2 - pocket folders
Planner to be used as assignment book
2 Large box of Kleenex (for the classroom)
1 – Blue Jeans Pocket to be used to create ear bud holder
Tennis shoes for P.E.
Optional:
Small pair of scissors
Calculator
Markers or crayons
Glue sticks
Labels to label personal items
Ruler w/inches & centimeters
Marker board eraser
Wish List: Hand sanitizer, Clorox wipes
SIXTH GRADE
Dry erase markers and eraser
Colored pencils or crayons
Markers
Standard calculator
Ink pens-blue or black
3-ring binder paper or perforated notebook paper
1 box of 12 #2 Pencils
Pink, yellow, and green highlighters
Assignment book
Ruler
Earbuds
2 – 2 pocket folders
1 – 3 subject notebook
Small pencil box
2 glue sticks
2 boxes of Kleenex
1 Large container of Clorox wipes
Tennis shoes for P.E.