No School on April 26 (Grades 7-10 & 12)
All juniors (third-year cohort) in the state of Nebraska are required to take the ACT assessment in the spring. There will be no costs associated with administering the ACT assessment to juniors. A very small portion of juniors (generally less than 1% of the overall student population) will qualify for the NeSA-Alternate Assessment in the spring. The NeSA-Alternate Assessment is a paper/pencil assessment that has been designed for students with severe cognitive disabilities or multi-handicapping conditions.
Diller-Odell Public Schools will administer the ACT online to all juniors on April 26. Due to the stringent testing requirements, students in grades 7-10 & 12 will not have school on April 26. There is also a junior high track meet occurring on this day and buses will run accordingly for any student that is out for junior high track. The elementary school will still be in session on April 26. All juniors will be required to report to school by 7:45 a.m. and the ACT assessment should be complete by 1:30 p.m. Parents will be responsible for transporting their junior son or daughter to and from school on April 26, only if your son or daughter cannot drive to school. The school will be providing lunch to all juniors free of cost after the ACT assessment is complete. Makeups will take place at the elementary school in Diller on April 27 and April 28 for any junior that is absent on April 26.
Here is a sample itinerary that districts must follow when administering the ACT in their district.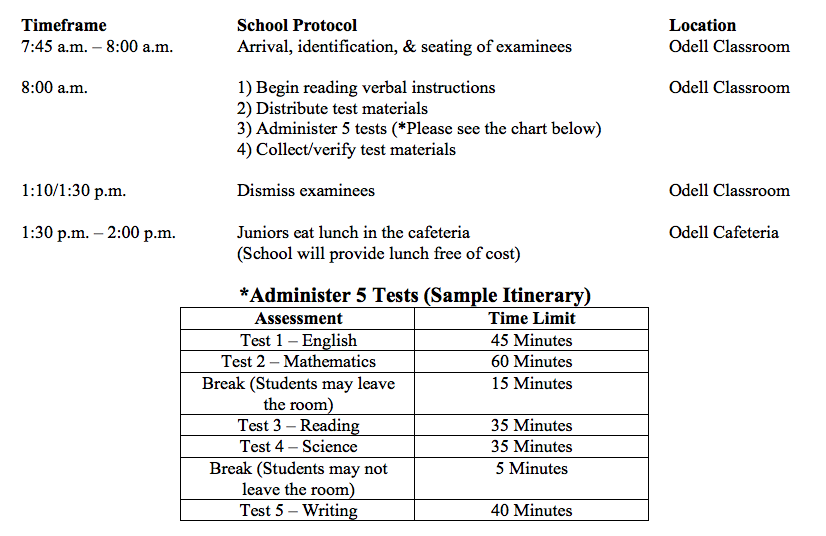 Please feel free to contact me with any questions or concerns that you might have regarding the new state testing requirements in Nebraska.
Christopher Prososki, Ed.D.
PK-12 Principal